Part one of a four-part series
Boulder County's Open Space Department is 40 years old this year. And throughout Boulder County and nearby, more than one hundred thousand acres of land have been preserved as county open space. Agricultural land, wildlife habitat, riparian and wetland areas, scenic buffers and buffers between communities. Mountain land and land on the plains, land for trails, picnic sites and birdwatching all are a part of the ethic of conservation that started in the 1970s and flourishes today. In fact, open space has become one of the signature features of Boulder County county open space as well as open space preserved by each of the communities within the county.
Public opinion surveys indicate that the public is overwhelmingly in favor of the open space program; in 2012, 80% said they approve of the program. Open Space city and county properties receive millions of visits each year. Thousands volunteer their time and talents to help with the management and improvement of the land. Was it always this way? Not at all. The beginning of the open space advocacy had many ups and downs. Two attempts to pass a countywide sales tax in 1978 and 1988 were defeated by the voters. There were groups and individuals who were strongly opposed to buying open land and they were a powerful force. It wasn't until 1993 that Boulder County voters approved an open space tax and a way for land to be preserved on a much broader basis than before 1993. Given the opposition, what made it happen?
First there was a group of residents from the late 60s on who advocated for preserving open land. They asked that a Parks and Open Space Advisory Committee be formed, and it was in 1968. They then asked the County Commissioners to establish an Open Space Department, and 40 years ago, in January, 1975, it was.
They were the people power that advocated for open space funding in the two election contests where open space failed as well as in the 1993 contest where open space was successful. So persistence paid off.
Second, the County Commissioners in 1992 established an Open Space Task Force to look at what should be done about open space funding. The task force included representation from every group in Boulder County that had an interest in open space (both pro and con): realtors and environmentalists, recreationists and city and town leaders, Chamber of Commerce and League of Women Voters representatives. Ultimately the task force came up with a formula that county voters accepted and a ¼-cent sales tax and bond issue was approved.
A Need to Preserve
Third, the growth boom in the early 1990s was a wake-up call to many who felt that an open space program wasn't a necessity. Housing subdivisions and other development sprouting up in open fields around the county spurred a realization that unless something significant was done, all the county communities might blend into one continuous urban corridor. Concern about managing growth was a major impetus for the creation of the Boulder County Super Intergovernmental Agreement that identified areas near cities and towns that could be developed and areas that should remain rural.  These rural preservation areas are the location of most open space parcels.
10,000 to 100,000 Acres
From the roughly 10,000 acres that had been acquired prior to the 1993 vote, an additional 90,000 acres or so have been preserved since then. Land has been preserved both by purchasing the total interest in the land as well as by purchasing conservation easements. About 2/3 of our open space is owned outright, and about 1/3 is preserved through conservation easements where the county purchases the development rights on private property.
And with the acquisition of open space comes the responsibility of maintaining the land and continuing to involve the public in processes that determine how the land should be used: building trails and facilities for the public to enjoy; taking care of weeds and keeping land agriculturally productive; establishing wetlands and prairie ecosystems; monitoring wildlife and soil health; and providing public education programs and encouraging volunteers to help with the work on the land. That's the 40-year evolution of the open space idea.
Future years hold additional opportunities and challenges. Several key parcels remain to be protected. Land management issues will continue as we strive to protect wildlife, agricultural production and provide additional opportunities for recreation.
Boulder County's Parks and Open Space Department looks forward to these opportunities and challenges.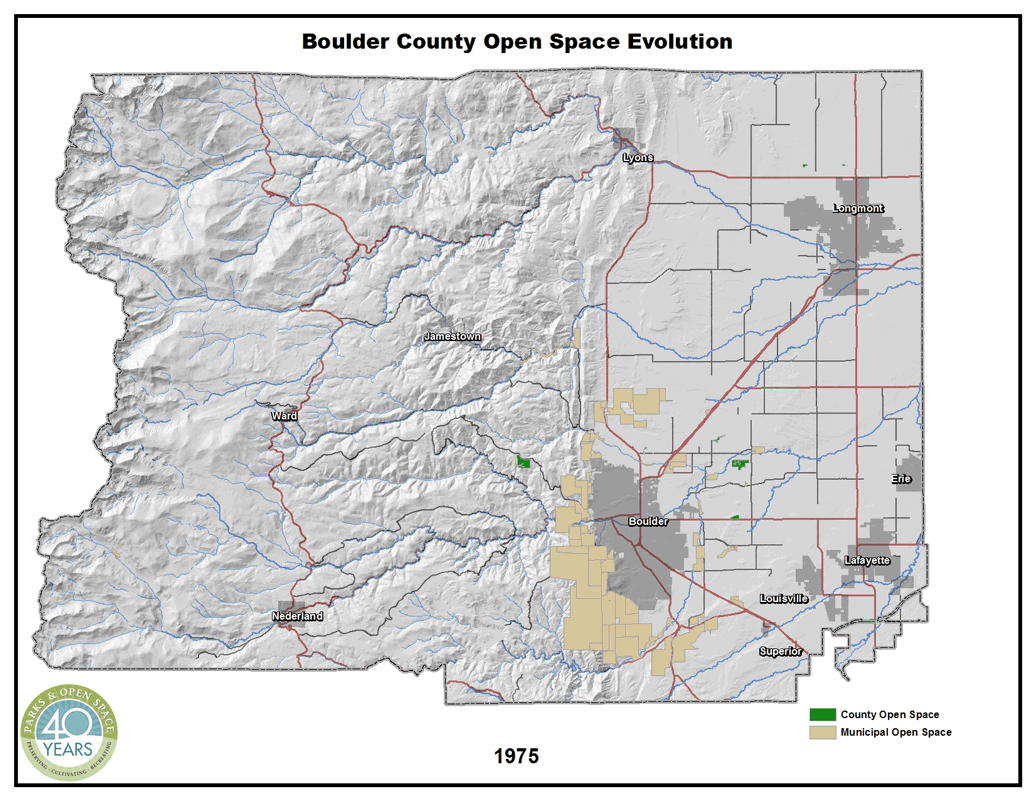 Note: This is the first in a four-part series about the department's 40th anniversary.