In 2014, the Boulder County Parks and Open Space Department is treating approximately 100 acres at Mud Lake Open Space for wildfire fuel reduction.
The hazardous fuels reduction treatment plan was approved in the 2004 Mud Lake Management Plan, and the 2010 FEMA Pre-Disaster Mitigation Grant awarded in 2013. Hazardous fuel reduction was also recommended by the 2011 Nederland Community Wildfire Protection Plan as part of a community-wide effort to reduce risk of wildfire and protect critical infrastructure.
Project Area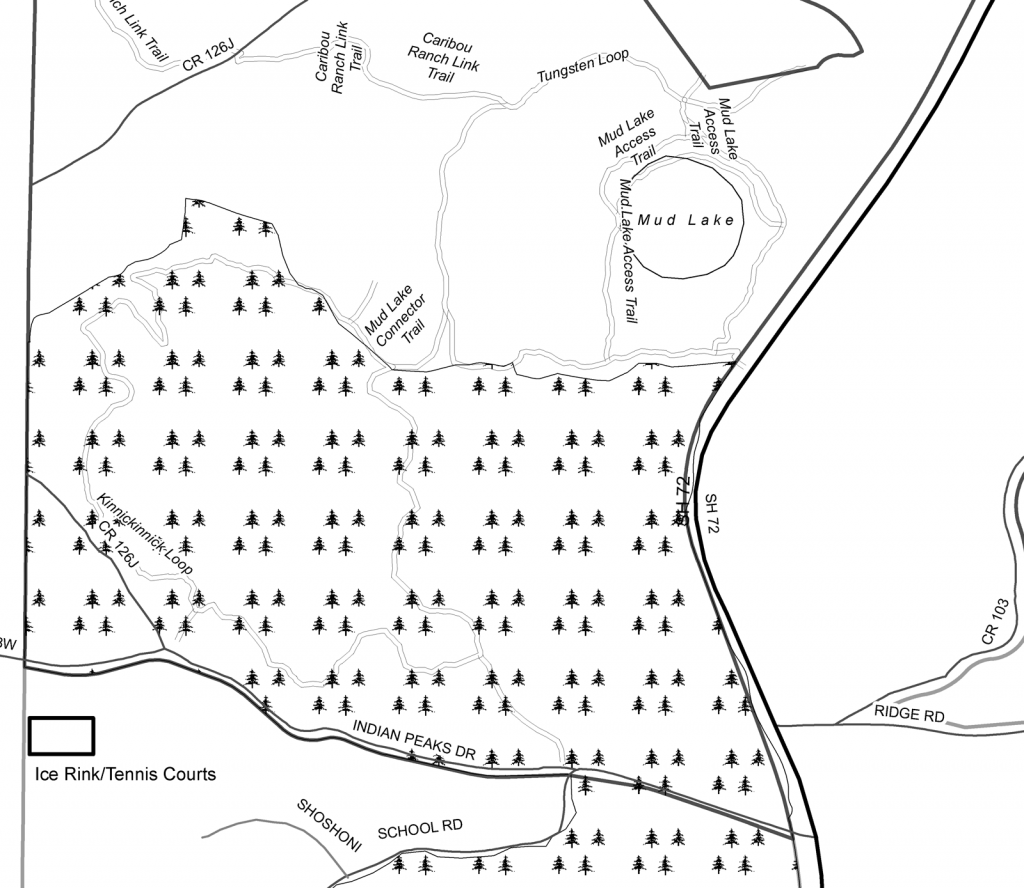 The treatment area, located on the southern portion of the open space property, is bounded by Indian Peaks Road to the south, State Highway 72 to the east, the property boundary to the west and the ridge-break to the north. The open space area is about 80 acres. The remaining 20 acres to be treated is a conservation easement owned by the Town of Nederland, south of Indian Peaks Road.
Treatment Plan
The project began in February and could continue until mid-April. Operations will start up again in October in order to complete the project by mid-December 2014.
The south side of Mud Lake Open Space is heavily infested with dwarf mistletoe. This parasitic plant is endemic to the upper montane life zone, but has reached levels that negatively affect site productivity, stunting tree growth and increasing fire danger by forming dense 'witch's brooms' that can capture embers and increase fire intensity. Pines (lodgepole, limber and ponderosa) with multiple dense, heavy witch's brooms and trees with active mistletoe growth are the highest priority for removal. The intent of the hazardous fuels reduction treatment is to remove a majority of the trees with the worst mistletoe infection and fire hazard. Since mistletoe is widespread across the project area there will be several large openings created. The end result will be a forest favorable to aspen regeneration, pine stands with little or no active mistletoe, and increased species diversity. This will reduce the risk of crown fire spreading throughout or across the project area.
Treatment Goals
The main objectives of the treatment are to reduce tree volume by 30 percent; retain and expand aspen, Douglas-fir, spruce and limber pine; reduce dwarf mistletoe by at least 50 percent; and retain and perpetuate old-growth forests and woodlands, including large diameter trees.
In some especially windy areas, slash may be scattered to protect soil and tree regeneration. Logs will be used as fuel for the Boulder County biomass heaters. Harvesting will take place during the winter/cold months to minimize resource impact.
This treatment will build on the work done by the Nederland community, Parks and Open Space and other partners to reduce hazardous fuels and improve forest health.