In September 2013, the Colorado Front Range suffered numerous impacts brought on by 10 inches or more of rainfall and subsequent flooding. Boulder County open space properties, private residences, and local municipalities suffered catastrophic impacts that are still felt today. Despite these impacts, flooding is a natural phenomenon that pushes nutrient rich sediment downstream, establishes a more natural river corridor, and maintains floodplain biodiversity. This happens through natural processes such as seedling recruitment, felling trees for small mammal and native pollinator habitat, and deposition of organic and inorganic material on the floodplain. All of these immediate consequences have long-term implications for overall fishery health.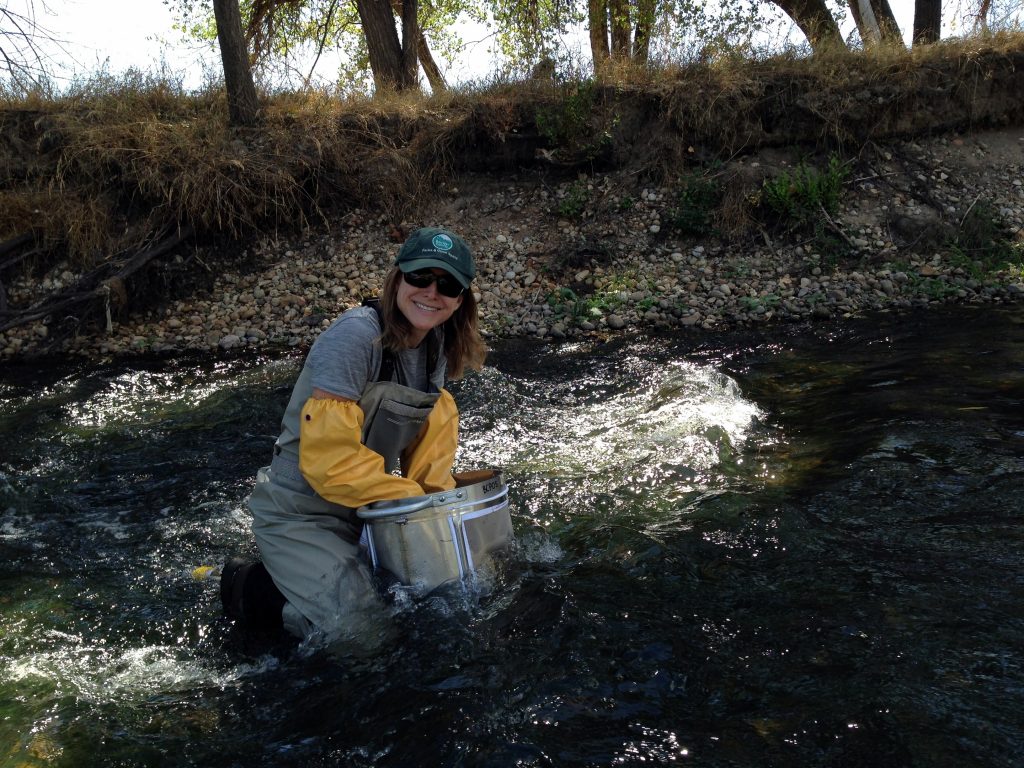 Measures Of Success: Biomonitoring
The underlying explanation for both insect and fish numbers in any given stretch of stream is largely attributed to chemical, physical, and biological indicators of stream health.
With these potential benefits in mind, Boulder County Parks & Open Space (BCPOS) is in the process of rolling out a biomonitoring program. This program aims to assess the short and long-term response of aquatic life and water quality to stream restoration activities on POS properties. Specifically, POS plans to monitor aquatic insects, fish, and water quality through sampling. Each sampling method offers insight into overall stream health, but when the three sampling methods are used together, their findings become even more significant.
To sample aquatic insects, specialized equipment is needed. The Hess Sampler is a cylinder that is pushed into the streambed. The streambed is then agitated, and organisms are forced into the front screen of the collecting bag by the flowing current. Once sampling is complete, the insects are preserved and later identified at BCPOS facilities and checked by Colorado State University experts for accuracy. The species found in each stream section can provide valuable insight into overall stream and fishery health.
In addition to insect sampling, BCPOS will use non-destructive electrofishing to sample the same stretch of creek for fish. At each location, a length of creek will be electrofished by a crew of at least six people. The electrofishing process consists of two electrofishers probing the water with a metal rod that emits an electric current that temporarily and non-lethally immobilizes the fish for an easy capture. Once the fish is temporarily stunned and captured in sizeable mesh nets, it is held in an aquatic cage until the sampling has ended. The fish is promptly identified and then safely released back into the stream.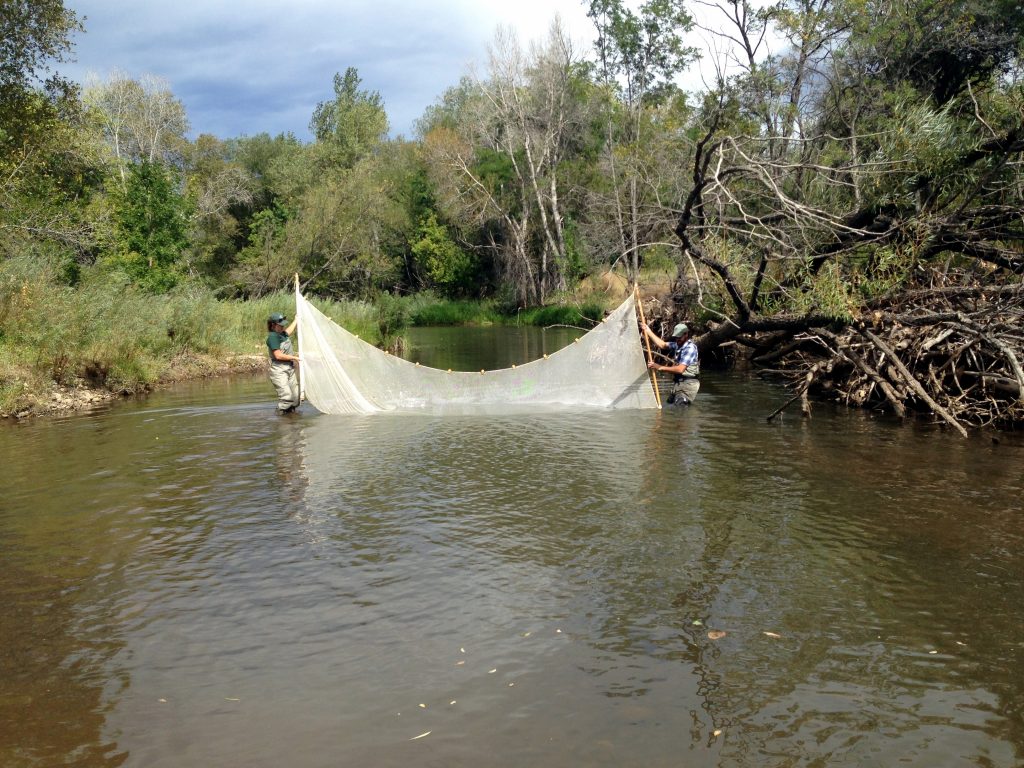 Beyond Insects & Fish
The underlying explanation for both insect and fish numbers in any given stretch of stream is largely attributed to chemical, physical, and biological indicators of stream health. In addition to insect and fish sampling, POS will use various instruments to record temperature, pH, dissolved oxygen, and water clarity. Most aquatic organisms have evolved to thrive in a finite temperature range (especially cold water fish in Front Range mountain streams) and any small changes can have lasting impacts. For example, humans often remove streamside vegetation for timber to maximize agricultural operations or make room for new roads. This permits more sunlight to warm the stream and consequently impacts aquatic organisms. Higher stream temperatures also lower the amount of dissolved oxygen which is vitally important for maintaining healthy, self-sustaining cold-water fisheries such as for trout or native Colorado mountain and plains fish. Humans also contribute to stream pH imbalance through industrial activities such as mining, agricultural operations, or wastewater treatment returns. The viability of any fishery is impacted by a changing pH level because many aquatic organisms have evolved over time to flourish in streams with a consistent pH (with many historic pH levels being near neutral) depending on the region.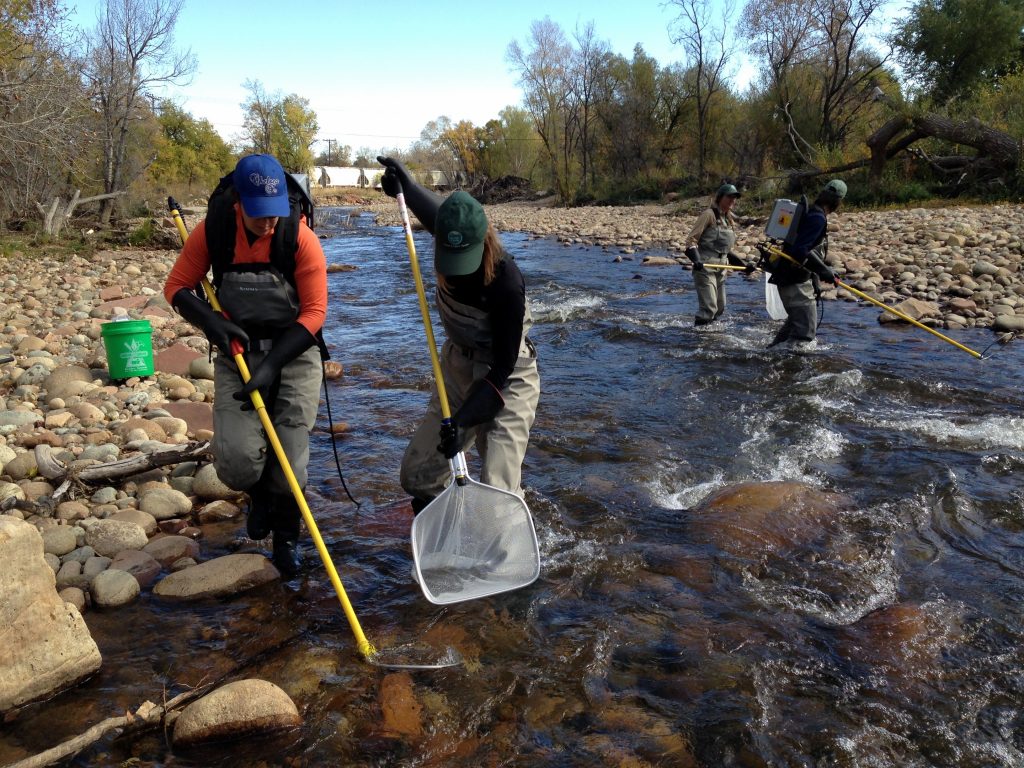 A Chance To Observe
As the years pass, the flood event of 2013 will be remembered for various reasons, but it will also have provided an opportunity to observe how local streams respond to such an impactful and historic flood. POS will continue to monitor streams as they recover from this flood event and any future disturbances that may occur.